Telephone: 022-482 3304 - Liesl Scholtz: 083-781 6793 - Email: This email address is being protected from spambots. You need JavaScript enabled to view it.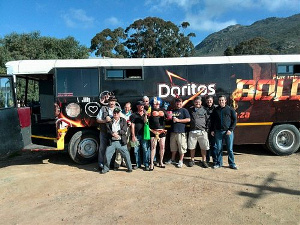 Here at Smokin Lizard Party Bus, we are prepared to handle any event you can think of, from entertaining Corporate Executives to Year-End functions and Matric Dances, West Coast Party weekends, VIP lounge at events and anything in between. 
The Smokin Lizard Party Bus is an event, a way of life, an uninhibited way to explore what the Western Cape has to offer. 
When you're on the Smokin Lizard Party Bus you are hooked up!
Just kick back and enjoy the ride: 
Be it a Bachelor, Bachelorette, Birthday, Ladies night, Boys night, Casino trip, Adventure trip, Wine tasting tour, Daytrip, Golf day,
Sport events, Concerts, Festivals, Business networking trip, Corporate party or any type of event! 
If we can't get your party started, nobody can! 
Our party bus is a one of a kind, custom-built with bathroom, air conditioner, sound system, TV with KARAOKE Feature, bar, stylish padded interior, pole, blasting atmosphere and loads of other features. 
We employ only the best drivers and crew to ensure a safe and pleasant experience.